Retail & Dining
East Village already has caffeine of many kinds, snacks of every sort, and choices for breakfast, lunch, dinner and drinks. There's makeup and medicine. And soon, a major grocery store. Haircuts. And more coffee, because there can never be too much hot or iced coffee in the newest, oldest, coolest, warmest neighbourhood in town.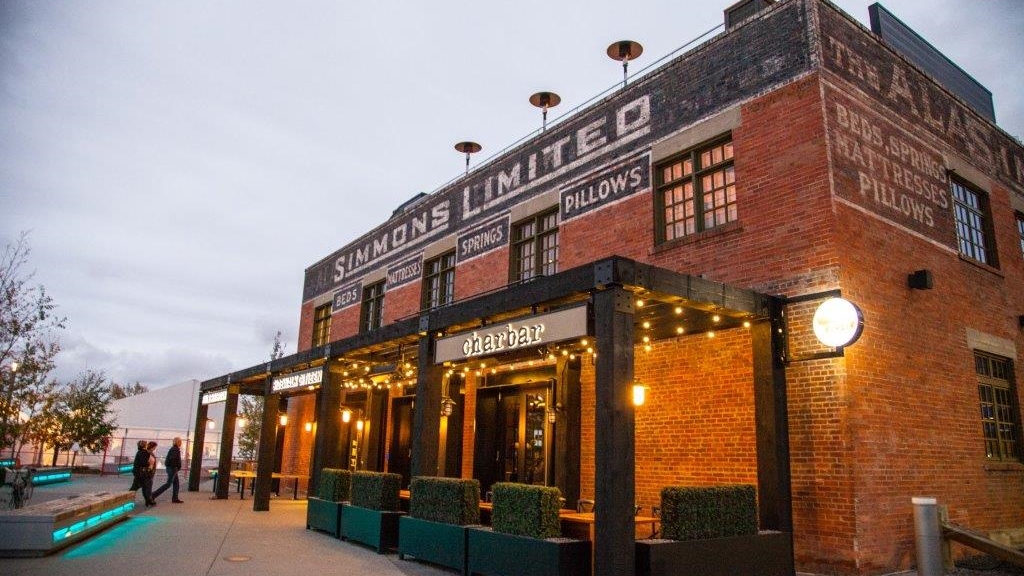 Part historical landmark, part community gathering place and really big part food lovers' paradise, the Simmons Building is a unique culinary destination right in the heart of East Village.
Opened in 2015, the former mattress factory is home to three of the city's most sought-after gastronomic tenants: Charbar, Phil & Sebastian Coffee Roasters and Sidewalk Citizen Bakery.
Culinary superstars Connie DeSousa and John Jackson of Charcut Roast House are bringing their epicurean wizardry to the banks of the Bow River.
A cornerstone of the Simmons dining emporium, Charbar will be a boutique eatery featuring respect for ingredients and passionate cookery.
Aviv Fried and Michal Lavi have achieved near-legendary status in Calgary with their artisanal breads, croissants and other freshly-baked goods. They have brought their renowned Sidewalk Citizen Bakery to the Simmons, along with an expanded Middle Eastern and Mediterranean menu that evolves throughout the day.
Part of the joy of grabbing a java from Phil & Sebastian Coffee Roasters in the Simmons comes from watching the roasting process right before your eyes. A state of the art coffee roasterie is at the heart of the warm inviting café where Phil Robertson and Sebastian Sztabzyb roast, brew and serve up coffee culture knowledge.

The Merle Norman studio offers life-affirming essentials like mani-pedis and a full range of other nailworks. There's waxing, makeup consultations and applications, and many other treatments. East Village is looking good!
The first East Village hair salon has arrived! In June 2016, RedBloom Salon opened in the base of FIRST condominium building at 542 Riverfront Ave SE. The salon has been moving full steam ahead ever since, welcoming clients from all parts of the city as well as EV residents just around the corner.
It's a perfect marriage of life and food, an urban retail shopping podium literally right at your doorstep.
The dream team of RioCan Investment Trust and Embassy BOSA are partnering to develop two new residential towers at 5 Avenue and 3 Street SE which will be anchored by a 188,000 urban retail centre that includes a full-sized Loblaws City Market, as well as other retail tenants.